RIVER VALLEY COVID-19 DASHBOARD
COMMUNICATION AND COVID-19
WHAT'S THE SCHOOL'S ROLE IN COMMUNICATING POSITIVE COVID-19 RESULTS?
Notify local public health department

Identify close contacts and restrict exposed students and staff

Notify appropriate school administration, families and staff (without identifying the COVID-19 case)

Provide Public Health with list of close contacts.
WHAT IS A CLOSE CONTACT?
Individuals who've been within 6 feet for more than 15 minutes with a positive COVID-19 case during the infectious period. Contact may occur in a classroom, lunchroom, free period, during transportation to or from school, at practices or games, and during extracurricular activities.
WHAT WILL WE COMMUNICATE?
If a student is identified as a close contact of a person who has tested positive the building administrator or school nurse will inform the classroom teacher that the student will be absent for a period set to end on a given date, and that homework can be prepared as best as possible for the child during that time.
COMMUNICATION PROTOCOL (EXAMPLE)
We receive a phone call that Student A or Staff A has tested positive for Covid-19. We contact trace based on student's/staff's schedule and notify parents that their child will have to be restricted from school activities for 14 days. We inform the department of health on close contacts. We follow up phone call to restricted students parents with an email detailing start and end of restrictive period. We will also email students who are in same classroom that there has been a positive case in that section and we ask them to monitor. We then update the dashboard. We will have a weekly update on Friday on positive case activity in district. (Updated 10/16/20)
HERE IS THE GUIDANCE FROM THE DEPARTMENT OF HEALTH ON WHAT INFORMATION WE CAN SHARE WITH THE PUBLIC: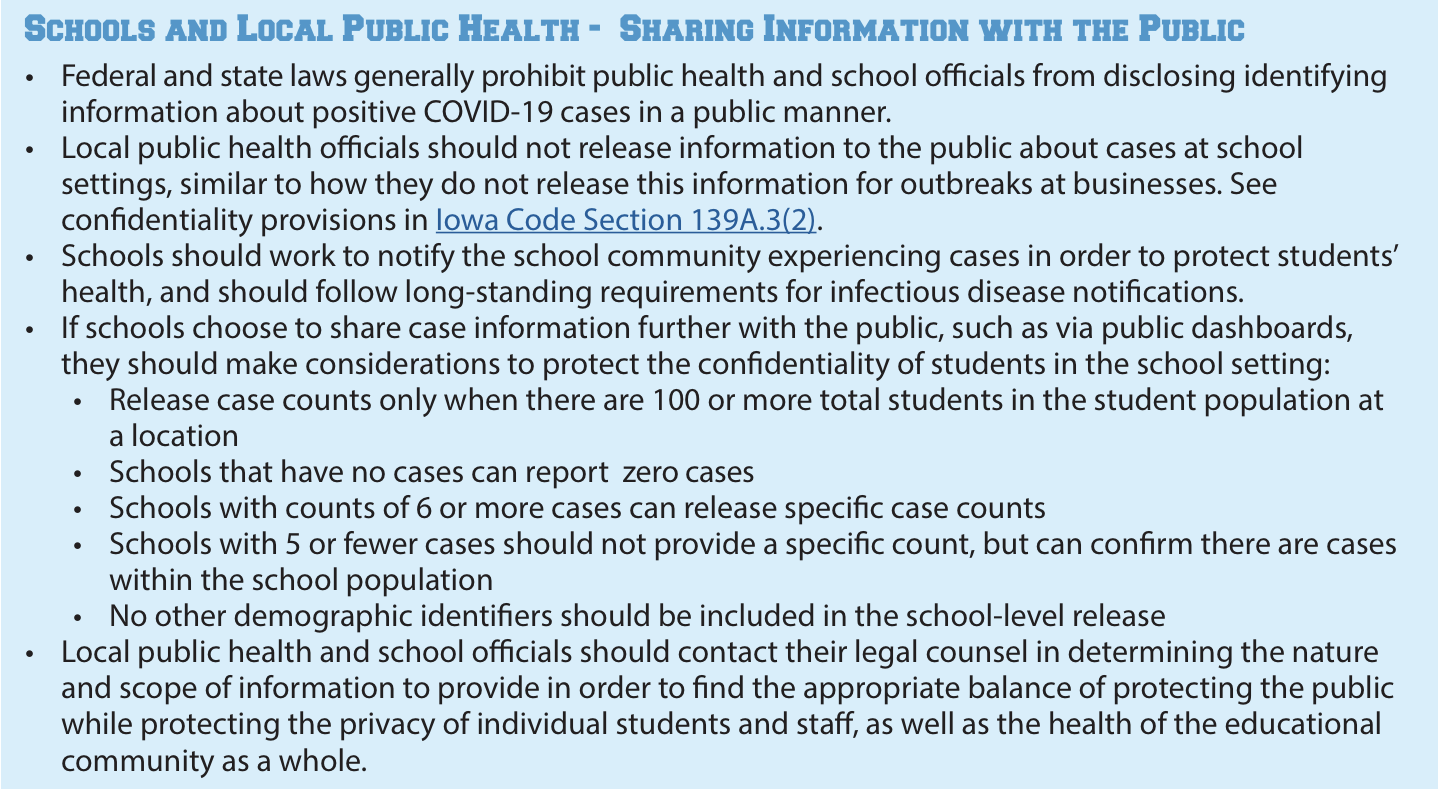 Approximate # of Students

# of total Active
Pk - 5 Cases
Staff and Students

# of Active 6-12 Cases
Staff and Students

# of total Quarantined
Students
Note: An active case indicates the student or staff member is currently under isolation as a result of a positive test result.